About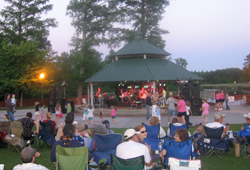 We Be Jammin' was established in the mid 1980's by a hard working, dedicated woman named Nanci Drake. It was started along the Blackwater River near the old Be-Lo shopping center. In July of 1998, We Be Jammin' took a giant leap when Katherine Barrett donated the land that is now known as Barrett's Landing. It was completed on March 31, 1999 in which We Be Jammin' was then moved to its present location at Barrett's Landing. We Be Jammin' is now held every Thursday night starting in May, running through September.
In 2008 WeBeJamminFranklin.com was launched to capture treasured moments from the summer concert series. WeBeJamminFranklin.com is owned an operated by Insercorp LTD, a Website Design and Development company that is headquartered in Franklin, VA. Insercorp provides the WeBeJamminFranklin.com website ad-free as a service to the Community in Franklin. "We Be Jammin' " and the We Be Jammin logos are used with permission from the Downtown Franklin Association.

In 2010 we expanded our online coverage of We Be Jammin to include a Facebook Fan Page including event reminders. You can become a fan of We Be Jammin by clicking the Like button at the top of the page.
You can view pictures from past events on the previous We Be Jammin websites by viewing our archived sites below:

Use the map below to get directions to We Be Jammin: